Community Philanthropy Update—March 2018
Friday, March 9, 2018 - 5:00 pm EST
As you read this, I've landed on the beautiful island of St. Croix, in the U.S. Virgin Islands, to engage with community foundations, our federal partners, FEMA, and other associations to discuss how philanthropy helps this U.S. territory, as well as Puerto Rico, continue its recovery from the devastating hurricanes back in September.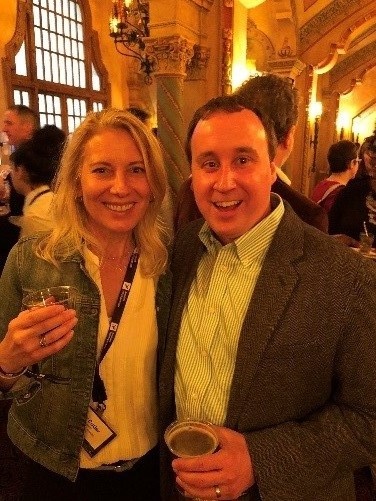 This trip pushes me to nearly 9,000 miles flown since the start of the year to engage with our community foundation members.  
I particularly enjoyed my attendance at the Knight Media Learning Forum, exploring the breadth of Knight Community programs improving our work. I also got to catch up with many of our members, including Tracy Cutler, Executive Vice President of Lancaster County Community Foundation, who was kind enough to snap a photo with me.
Member visits, including this trip to St. Croix, provide broader context to the challenges facing communities and community foundations (beyond the current circumstances of the U.S. territories destroyed by two hurricanes). It also helps the Council analyze the assets and opportunities juxtaposed against the futures our communities envision for themselves—a reality many U.S. communities are facing in the drastically changing economic and politically charged landscape.
For this reason, we are doubling down on the power of convening our field and sector with ample events—both in-person and virtually—for you to take part in critical conversations.
Further, if you have innovative solutions for donors to address the new tax reform law, I'd love to hear them. Please share directly with me via email as we start to identify the best approaches community foundations are taking in the new era of tax planning around gifting.
Regards,
Brad Ward
Director, Community Philanthropy
P: 703-879-0640 | E: brad.ward@cof.org
Upcoming Council Events
In-person Events
March kicks off our Community Foundation Professional Development Series, focused on community foundation excellence courses and legal matters for community foundations workshops. 
Inclusive Economic Prosperity in the South | May 23-24, 2018 | Spartanburg, SC
As the American economy continues to improve, the timing is right for philanthropy to define a unique leadership role for itself in ensuring economic growth is inclusive growth.
Public Policy Summit | April 11-13, 2018 | Philadelphia, PA
The Council's inaugural Public Policy Summit promises to engage foundation leaders, policy experts, and media representatives in important conversations around the policy issues that are critical to ensuring philanthropy flourishes. Register now!
Virtual Learning Opportunities
National Standards Conference Call | March 14, 2018 
The purpose of this monthly call is to offer community foundation staff a venue to voice questions or concerns related to the National Standards program. The input of community foundation staff is critical to the success of the program.
Grantmaking Innovation: Using a Competition Model to Fund Bold Ideas | March 29, 2018
Join the Council for a discussion between two grantmakers who've deployed a model based on compassionate competition. Learn more about the John D. and Catherine T. MacArthur Foundation's 100&Change, a competition for a single $100 million grant to solve a critical problem of our time, and what is involved in making such a significant grant. Then, hear about the Compassionate Shark Tank from the Southwest Florida Community Foundation, which believes that ideas get better when they are presented to a diverse group of funders, leaders, and citizens. 
Evolving Technologies: Improving or Expanding Donor Services? | May 2, 2018
It's no surprise that technology has had an impact on fundraising, philanthropic advising, and grantmaking. But how do you know if you are ahead or behind the curve of the digital revolution?
Save the Date: Funders' Luncheon on Digital Inclusion
On April 17, 2018, the Council on Foundations will co-host a luncheon discussion with the Cleveland Foundation on the Connect Home Initiative, a federally funded effort to get more low income households connected to the internet. Speakers and details will be provided in the coming weeks. Please RSVP at partnership@cof.org.
Community Foundations Collaborate to Help Puerto Rico
Silicon Valley Community Foundation is partnering with the Puerto Rico Community Foundation to promote the Gift of Life Campaign that will focus on providing 100 community health centers with an alternate source of energy. Twenty percent of the island remains without energy, creating limited health center hours and unstable services for residents.
If your foundation or any of your donor advised funds are interested in becoming a part of this effort, please write to mgabino@fcpr.org to engage in the recovery efforts for Puerto Rico.
DAF Comments & Opportunity Zones
See the

Council's

official comments submitted to the Treasury on behalf of our members regarding DAF regulations, which are expected to undergo a significant overhaul.
Check out our

FAQ on

Opportunity Zones, a unique designation created in the recently enacted tax reform.
Recent Council Events
North American Community Foundations Summit 
Highlights of this first ever NACF Summit:
Membership Renewal Ends April 30 
The philanthropic sector has so much potential as we move into a new social and political era, and it is ever more important that we speak loudly on the issues that matter to the sector. By renewing your membership in the Council, you can have a direct impact on the sector's priorities and direction. The membership renewal period ends in just a few short weeks. Please take 90 seconds to share you intentions to renew with us. Doing so will opt you out of receiving select 2018 renewal messages.
Community Philanthropy Updates