Global Philanthropy Update - July 2018
Friday, July 20, 2018 - 2:05 pm
The UN's High-Level Political Forum (HLPF) in New York City this month was an opportunity for governments and partners to review global progress on achieving the Sustainable Development Goals (SDGs). During the meetings, 47 countries completed Voluntary National Reviews to show progress on the SDGs, along with New York City, the first municipality to do so. The U.S. did not complete a voluntary national review. Canada did, and the Canadian's analysis of their work on the SDGs highlighted several commitments, including $100M in 2018 to go toward a new SDG Unit to better support SDG implementation and coordination.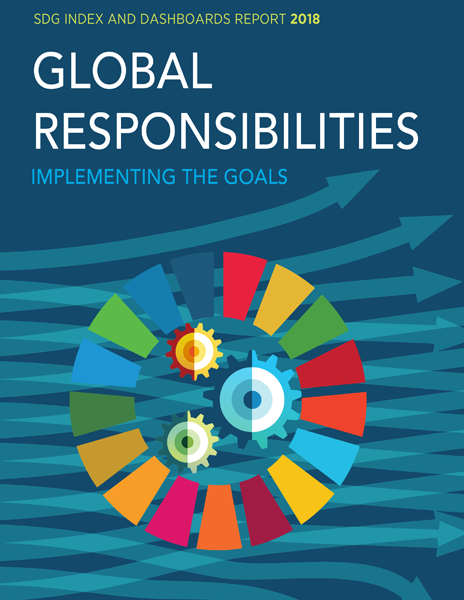 Alongside the conference, the Bertelsmann Siftung Foundation and Sustainable Development Solutions Network released their 2018 SDG Index, which analyzes how well 156 countries are doing in achieving the SDGs. This year's report includes trendlines to estimate future progress on the SDGs and ranks the 20 wealthiest countries on their implementation strategies; the U.S. and Russia scored last.
We are excitedly preparing to release a new report next month with the Foundation Center that analyzes global grantmaking by U.S. foundations between 2011 and 2015. For me, the data in our study shows how important U.S. foundations are as partners for achieving the ambitious goals within the SDGs, including ending poverty and ensuring gender equality globally. As governments continue to work alongside civil society and businesses to address the SDGs, it is critical that philanthropy continue to be a part of the conversation and think strategically about how to best leverage resources to drive innovation, invest in solutions, and support organizations that will help ensure no one is left behind by 2030. We would love to hear stories about how you're working with governments and partners globally to play a role in achieving the SDGS – please feel free to email me at any time to discuss more.
I hope you'll consider joining the Council and exploring how membership can help your organization achieve its goals and mission.
Best,
Natalie
Vice President, External Relations 
---
Upcoming Events
Webinar: How Do U.S. Foundations Support Global Programs and Partners? New Data and Trends on International Giving
August 14, 2018 at 1:00PM EST
Free for Council Members
The Council and the Foundation Center will be publishing a new report on the state of international grantmaking by American foundations in August. Join us for a sneak preview of the main findings of the study, which looks at grantmaking between 2011 and 2015, to see where funds are flowing and what types of programs are supported by U.S. foundations.
Conference: Innovations in International Philanthropy Symposium
September 6-7, 2018 in Boston, MA
The Council is excited to work with The Philanthropic Initiative and New England International Donors to support their first-ever international philanthropy conference in September. Join to hear about our work on the SDGs and discuss a range of global topics, including how to scale solutions globally, partner with community foundations, undertake impact investing globally, and more. Registration is now open!
---
Global Philanthropy Resources
New Report: Donor Perspective on Closing Space
The Council of Foundations and many of our partners around the world are watching the changing situation for philanthropy across the globe, as the enabling environment for giving within countries and across borders is improving in some places and becoming more difficult in others. Center for Strategic & International Studies' new report examines the flow of financial support to civil society and analyzes different methods of support that are effective at enhancing the sustainability and resilience of these groups, especially in restricted environments. They've also released a new video on why civil space is crucial, and how to restore it.
Global Survey: Grantmakers' Perceptions of Closing Space
The Funders' Initiative for Civil Society (FICS) is identifying broad trends and opportunities for grantmaking in response to closing civil society space around the world by surveying grantmakers globally. Please consider sharing your experiences by completing this 5-10 minute survey.
New Book: Cross-Border Giving
Council member CAF America released a new book this month which provides a legal and practical guide to cross-border giving, ranging from chapters on vetting grantees and tools for equivalency determination and expenditure responsibility to discussions on the SDGs, closing space for civil society, and ethics in international grantmaking.
FARA Updates
The Foreign Agents Registration Act (FARA) continues to make headlines – this week in Washington, news is focused on a supposed Russian agent who did not register under FARA. Our concern about how FARA could be used to politically target non-profits remains, and last month, we saw concerning new developments in this space. The House Committee on Natural Resources sent a letter to the Natural Resources Defense Council (NRDC) as part of an investigation into foreign influence on environment programs in the US. Their June 5th letter contained reasons justifying the need for FARA registration that were worrying, as the reasons could apply to most U.S. foundations working both globally and domestically, including that:
NRDC's ability to work in China is dependent on the goodwill of the Chinese government, since NRDC would need to register as a Foreign NGO in China. This overview from ChinaFile's NGO project is a good analysis of this claim.
NRDC regularly engages Chinese officials in conversations about their work.
NRDC has implemented different advocacy approaches when engaging the U.S. vs. the Chinese government and has supposedly criticized U.S. policies on the environment while praising China's efforts to comply with climate change commitments.
We are continuing to work closely with a growing coalition of civil society networks, led by the International Center for Not-for-Profit Law and Interaction, on proposed revisions to FARA. Last month, the Council joined InterAction's sign-on letter with 45 other non-profit organizations about the impact of FARA on the civil society sector.
Global Philanthropy & Development News
Not all intermediaries: A call for partnership in the #ShiftThePower conversation, via Alliance
Global Greengrants and the Fund for Global Human Rights argue that intermediary partnerships play an important role in getting more development aid into the hands of local groups and communities around the world. 

'Play the long game:' US must continue aid in Central America, analysts say, via Devex
Many worry the Trump administration will cut funds for US government programs in Central America that work with countries in the region to try and address the critical Central American migrant crisis.
People are really into impact investing, via Fast Company
The amount of money being invested in "world changing causes" doubled in the last year to $228 billion, an all-time high. 
International Giving
Global Philanthropy Updates