Community Philanthropy Update - September 2018
Friday, September 14, 2018 - 3:21 pm EDT
During my tenure at the Council, I've seen how often community foundations are on the front lines in countless disasters. But no community is alone in their moment of crisis. The Council can connect you quickly to a global network of colleagues, < a href="https://www.fema.gov/hurricane-florence">FEMA, and Center on Disaster Philanthropy to help with disaster response. The Atlantic hurricane season is in full swing, with storms brewing across the region.
As we closely watch news out of the southeast, I am thinking of all those impacted by Hurricane Florence. We created a resource page tracking the storm's impact, which includes information on how your donors can support community foundations mobilizing in the wake of the storm. We've also co-sponsored a webinar for Tuesday at 3:00 PM ET with the Center for Disaster Philanthropy, Southeastern Council of Foundations, and the Funders' Network for Smart Growth and Livable Communities. 
Given our connections to federal agencies, we often support institutions like FEMA and HUD who continues to work with community foundations on the ground a year after Hurricane Irma and Maria. Council member or not, do not hesitate to contact us in your moment of need.
A recent Nonprofit Quarterly article, "Donor-Advised Funds and Community Foundations, Reimagined," raises critical considerations for community foundations and is an important addition to the national conversation about DAFs. Throughout this year, I've spoken with many community foundation leaders about how our sector might respond. Could and should community foundations proactively push for policy changes?
I worry that the focus on DAFs and our competition with commercial funds has fueled an asset-centric, growth focus among our field. It begs the question—can we identify metrics that are not asset-centric, but reflective of the competitive advantages unique to community foundations and our high aspirational proclamations about creating a better tomorrow?
For these reasons and more, we have designed a new Community Foundation Executive Roundtable Series. The first roundtable will be  held in Washington, DC, on October 18, with a group of invited community foundation leaders that represent diverse geographic, size, and scale. Two more roundtables will follow in 2019 – please sign up to hear first about our next two conversations.
I'll have more details next month on who is attending our first roundtable and how you can engage in our conversation. I am excited to convene 30 community foundation CEOs and Executive Directors to catalyze a first conversation on the communications, data, regulatory, and policy considerations most impacting our field today.  Stay tuned.
Best,
Brad Ward
Director, Community Philanthropy
Ph.: 703-879-0640
Brad.Ward@cof.org
---
Where Is Brad?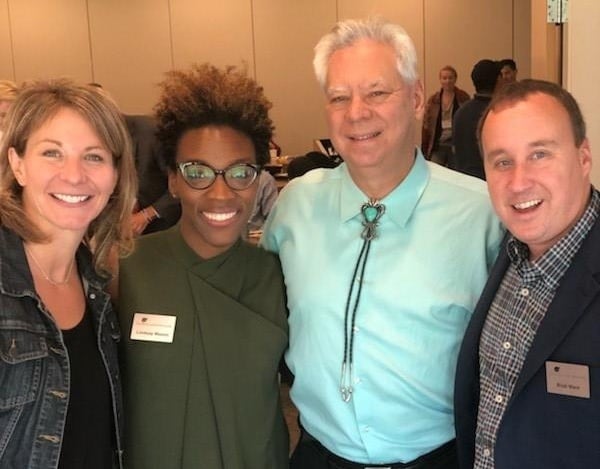 Inclusive Economic Prosperity, Saint Paul, MN
Pictured: Jen Higgins, Target Foundation; Lindsay Mason, Council; Dr. Eric Jolly, The Saint Paul Foundation; Brad Ward, Council
Thanks to the 140 funders who joined me at the Inclusive Economic Prosperity convening in the Twin Cities to explore philanthropy's role in creating inclusive and innovative economies.
Minneapolis Foundation and Saint Paul Foundations were lead partners along with other private funders and partners, and several community foundations were featured, including Southwest Initiative Foundation, Incourage, and Chicago Community Trust.
Designed to help both our rural communities and urban neighborhoods, these tough conversations look at the speed of change impacting our local economies and the vulnerable populations historically and presently excluded from access to opportunity.
TIP: Access PowerPoints and resources on our event page for your own learning journey into inclusivity and community, economic development.
This week I was back in DC before returning to Indiana (where I'm remotely based for the Council).  I'll be back on the road September 27 in Hartford, CT and October 11 in Spokane, WA for our last two Legal Matters workshops in 2018.

Members Spotlight
Congratulations to Council member Barry Community Foundation for their recognition in the Chronicle of Philanthropy about their strategy of using data to inspire community investment and grow their foundation.  
Sherry Ristau recently celebrated her fourth anniversary as President & CEO at the Community Foundation of the Great River Bend. Read a blog post about her reflections of her time at CFGRB and the importance of working towards inclusive economic prosperity.
---
National Standards
National Standards continues to work hard on being accessible to the field and guiding participants through the new process and application system. Remember, this is a peer-built and peer-driven process that gives the field a strong defense on the regulatory and policy front, and the ability to drive your Foundation's innovation with strong fundamentals in place. You can ask questions, provide input on the process, and hear updates by joining the monthly National Standards conference calls (2nd Wednesday of each month at 1:00pm ET). The next call is October 10.  
---
DATES not to miss:
---
CHECK OUT
---
Career pathways—Apply for the 2019 Cohort
Career Pathways (Deadline to apply—October 15) is our year-long leadership development program that works to increase diverse candidates who are considered, appointed, and retained in senior and executive philanthropic leadership positions. The program regularly includes CF leaders, including from these 10 community foundations in the last two years:  
Past cohorts include staff from these community foundations:
Community Philanthropy Updates