Private Philanthropy Update - December 2018
Friday, December 7, 2018 - 4:03 pm EST
At the Council, we are always looking for ways to celebrate and highlight the important work our members are leading around the country and around the world.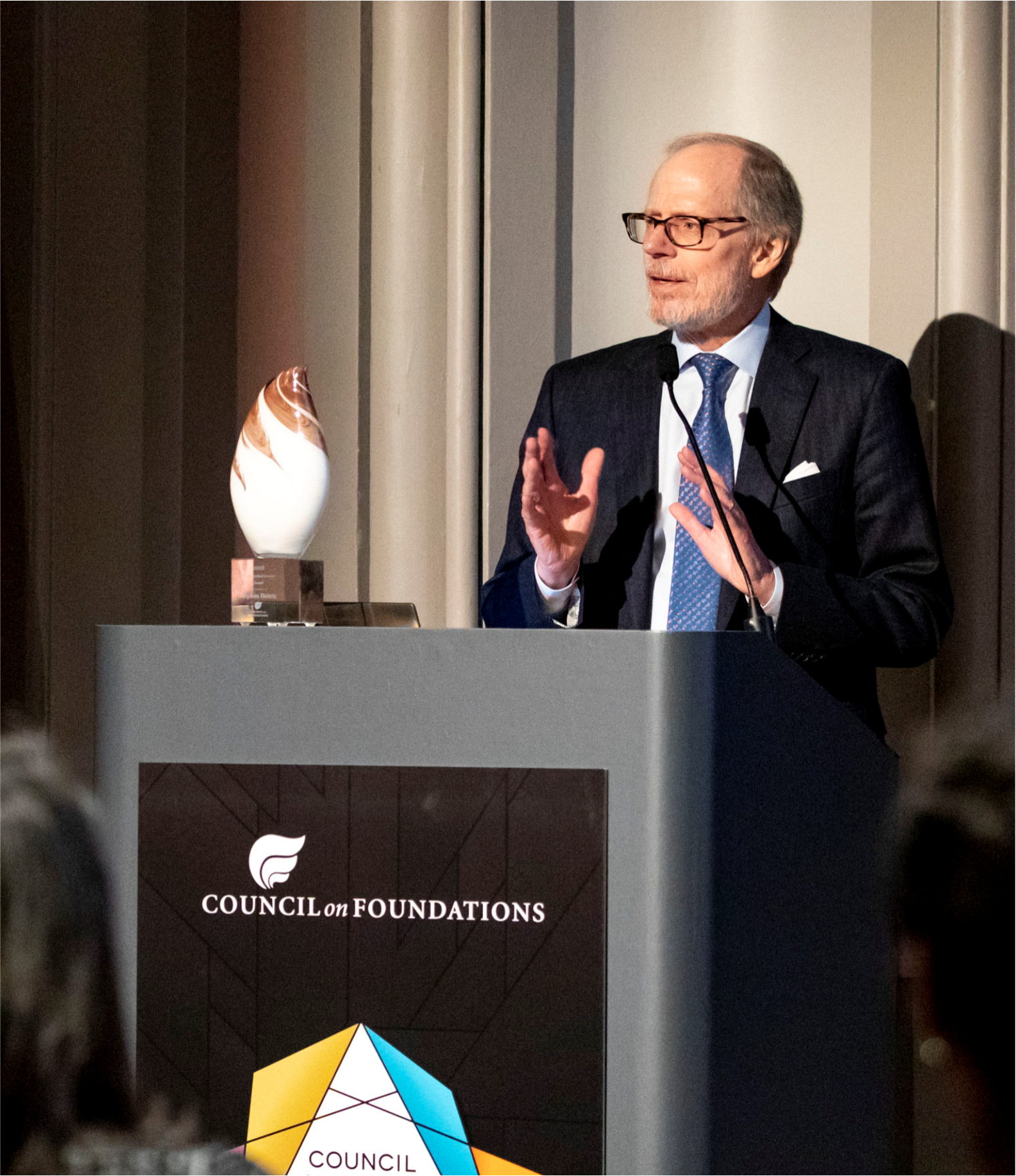 Stephen Heintz speaks on the state of philanthropy after accepting the Distinguished Service Award.
Last month, we hosted a stand-alone members meeting and awards ceremony in Washington D.C. Alongside an evening of networking at the National Museum of Women in the Arts, we were honored to present Stephen Heintz, President of the Rockefeller Brothers Fund with the 2018 Distinguished Service Award.
As stated by the Council's interim president and CEO, Gene Cochrane, "Stephen Heintz' deep commitment to the principles of philanthropy has led to him being one of the most respected leaders in the field in the United States and globally. Under his leadership, the Rockefeller Brothers Fund has been both a trusted grantmaker and convener."
During the event, we also highlighted three other inspiring award winners: Brennan Gold, President & CEO of the Charlottesville Area Community Foundation, received the Robert W. Scrivner Award for Creative Grantmaking; the Nusenda Credit Union Foundation received the Wilmer Shields Rich Award for Excellence in Communications; and Studio in a School received the Chapman Prize.
Looking to next year, we are excited to announce the opening of nominations for the 2019 Secretary's Award for Public-Philanthropic Partnerships. Now in its seventh year, this award recognizes partnerships that have transformed communities through collaborations between foundations and government entities, via a collaboration between the Council and the US Department of Housing and Urban Development.
We would love to highlight how you've partnered across sectors to improve communities across the US, so we hope you'll apply for the 2019 Secretary's Award for Public-Philanthropic Partnerships by January 14, 2019.
Happy Holidays,

Natalie Ross
Vice President, External Relations
Ph.: 703-879-0627
natalie.ross@cof.org
---
MEMBER SPOTLIGHT
The Council celebrates our member, the Lumina Foundation, for their latest investment in adult education. Lumina recently partnered with six states to increase educational opportunities for adult learners as part of the foundation's Adult Promise initiative. Lumina awarded $2.5 million to California, Ohio, North Carolina, Kentucky, Idaho, and Texas. These grants will work toward Lumina's goal to raise the portion of adults with a degree or certification to 60 percent by 2025. Learn more here and here.

The Council on Foundations and National League of Cities, with support from the Lumina Foundation, will bring together philanthropic and government leaders in three cities to raise awareness about the social impact of structural racism while highlighting current efforts to dissolve and resolve racial conflict and disparity. The series kicked off with a session in Washington, DC, in October.
Register now for our 2019 conference!  Our Leading Together 2019 conference will include:
3 PRECONFERENCE SESSIONS diving into topics such as advocacy, communities in crisis, and new, innovative approaches to international grantmaking.
3 SITE SESSIONS

 

to get you out in Miami and witness local philanthropy in action. Choose from a visit to the Pérez Art Museum Miami,

 

Everglades and rural South Dade, or Liberty City and Brickell.
18 CONCURRENT SESSIONS across four tracks: Bridging Divides, Climate Impacts & Vulnerabilities, Inclusive Economic Development, and Philanthropic Practice.
5 NETWORKING EVENTS connecting you to foundation leaders and celebrating milestones including the Council's 70th anniversary.
 

A Primer for Funders on CDFIs: Co-Investing In Opportunity Zones and Inclusive Community Development
Wednesday, December 12, 2:00 pm—3:15 pm ET

Archived Webinars
What The 2018 Midterm Outcomes Mean For the 116th Congress
California College Pathways: A Case Study On How Strategic Philanthropy Leads To Systematic Change
Don't Be Caught Off-Guard This Tax Season: A Guide For Navigating The New UBIT Rules

Giving to Hospitals and Other Health Institutions Grew 2.9% in 2017, Report Says—via Chronicle of Philanthropy
An Open-Data Approach to Transform Grantmaking—via Stanford Social Innovation Review
Brave New World: How Cryptocurrencies and the Blockchain Are Changing Philanthropy—via Inside Philanthropy