How Data Can Unearth Innovative Solutions to 'Wicked' Problems
Thursday, February 27, 2014 - 10:16 am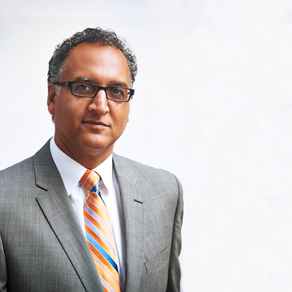 The Community Foundations of Canada's Vital Signs is an annual community check-up, conducted by community foundations across Canada – and now around the world – that uses data to measure the vitality of our communities.
The effort started in the late 1990s at the Toronto Community Foundation (TCF). The Council's Christopher Goett, caught up with Rahul K. Bhardwaj, President & CEO, Toronto Community Foundation, to discuss TCF's Vital Signs initiative as part of The Council's #CF100 series.
Below are excerpts from the discussion, which took place on February 7 in Quebec City, Quebec.

This post is part of the #CF100 Series of blog posts. The Council on Foundations is marking the 100th anniversary of the nation's first community foundation, The Cleveland Foundation, by highlighting the roles of community foundations with this series.
Chris Goett: How does the Vital Signs project –and the Toronto Foundation's work in pioneering the concept of collecting and sharing community information– inform your current work?
Rahul Bhardwaj: I often quip that the Toronto Foundation is a knowledge company within the philanthropic sector. This perspective has really helped focus our staff and board on what our key asset is and how to continue to leverage that. The Vital Signs work has become the hallmark of our brand and helped TCF align every aspect of our business model. Vital Signs acts a diagnostic for the city of Toronto itself where we create this annual report and share the latest information about Toronto, with Toronto.
Over time, TCF has built a robust database of community knowledge not only about the diagnostics of the city but also the correlating solutions. This information is shared with our donors to help syndicate and leverage their giving linked to specific Vital Signs and target their giving to critical and timely issues facing Toronto. Our commitment to community knowledge is a huge value-add for our donors.
The connecting function of TCF's mission is also enhanced by our commitment to community information. The Vital Signs report often shines a light on an unaddressed or emerging issue that enables TCF to convene various stakeholders around our latest findings. For instance, we looked at a new batch of results based on a set question aimed at measuring "sense of belonging" that delved into the degree of social capital in various parts of the city. We leveraged that with upcoming 2015 Pan-American Games coming to Toronto. It's led to a social capital building initiative called "Playing for Keeps" wherein TCF is training up to 1,000 newcomers to Canada to be community leaders and volunteers for 'neighborhood games' in their own communities throughout Toronto.
CG: So that social capital finding within your Vital Signs report led to TCF implementing a strategy to create more connectivity within key areas in Toronto wherein you learned folks were feeling more isolated?
RB: Absolutely, through play.
CG: By linking it to the 2015 Pan-Am Games, you have something on the horizon that propels this initiative.
RB: Exactly. We've supported all kinds of play that get children and families from all parts of the city and socio-economic backgrounds interacting with each other around fun games and contests. The impetus for this successful endeavor was a key finding from our community indicators work. This is the key aspect about sharing community information – it's not about just the report. The report provides a great community engagement opportunity.
CG: You've recently worked with community foundation leaders from Brazil, United Kingdom, and Miami about TCF's approach to sharing community information. What advice do you give them? Are there any 'start-up' lessons learned you share with them?
My first reply is: "Don't do anything until you have a clear plan for what you are going to do with the report." This usually creates a stunned silence at first.
CG: The pregnant pause? (laughter)
RB: The pregnant pause! At the heart of it, that is the most difficult question to answer. Our Vital Signs is just a tool – the real dialogue is around what do you want to achieve with this 'tool', where do we want to go? Generating all this community information creates an expectation of leadership. This is a crucial consideration for community foundations thinking about this work from the outset. Beyond the branding opportunities, what will your CF lead on based on this solid baseline of diagnostics and data? How will your board feel about leading on critical and timely issues that may tip into areas of advocacy? How will you shift engaging your donors to align with trending issues? How will you engage key community partners accordingly? There is a whole ecosystem you really need to think about before falling in love with actual project itself.
CG: When was the last time the results of your annual Vital Signs reports caught you by surprise?
RB: Every year! Every year there is something that grabs me. I have a fantastic team that helps develop our robust report. I see many drafts and process the emerging results. As TCF's primary spokesman, I need to synthesize the prevailing narrative for each year. While we report on key trends from year to year, there is always a new and newsworthy finding. This year there were two items like this. The first was that 50 percent of Torontonians live with 500 meters of Toronto's 1,600 parks. The second: the unemployment rate for youth 18-24 reached 20.75 percent - a stunningly high number. For immigrant youth, it's closer to 29 percent. But the real story is that it has been over 15 percent for a solid decade. This puts a different frame on the dialogue regarding a fine point on a pervasive issue. So to your question, every year there is something new – but our longevity in sharing community information provides a rich context for new findings.
We have high schools, universities, corporations, and local government all utilizing our information as a roadmap in their various discussions about Toronto.
CG: It sounds like TCF's Vital Signs approach to sharing community information is really an engine for cross-sector dialogue. You've alluded to engaging social, private, and public sectors around your emerging trends and information. That puts TCF as central node within Toronto to bridge all kinds of connections and capital.
RB: Often when I'm working with new groups and presenting our community information work, I often tell folks that philanthropy is not about 'cutting checks'. For TCF, philanthropy is the space that brings the public sector and private sector together to develop innovative solutions to "wicked" problems. In Toronto, that dialogue begins with Vital Signs.
Community Foundations Centennial
Donor Advised Funds
Partnerships and Collaborations
Public Policy
Strengthening Communities