Turning Nonprofit Passion Into Skillful Action
Thursday, September 11, 2014 - 11:13 am

This post is part of the #CF100 Series of blog posts. The Council on Foundations is marking the 100th anniversary of the nation's first community foundation, The Cleveland Foundation, by highlighting the roles of community foundations with this series.
See where it all began at our
Fall Conference for Community Foundations in Cleveland this October!

Bobby Hill, recruitment coordinator for the Virginia Beach Rescue Squad Foundation, loves to tell everyone that he has "the best job in the world."
In southeastern Virginia, the Hampton Roads Community Foundation is working to create more Bobby Hills – nonprofit professionals doing rewarding work with great gusto and expertise.
Hill credits the community foundation's initiative with helping him double in the past five years the number of people serving in the country's largest all-volunteer rescue squad. That initiative is the Academy for Nonprofit Excellence started by the Hampton Roads Community Foundation in 2005. The goal is to provide low-cost, high-quality training so nonprofit staff and board members can put passion into action in the Hampton Roads region of Virginia.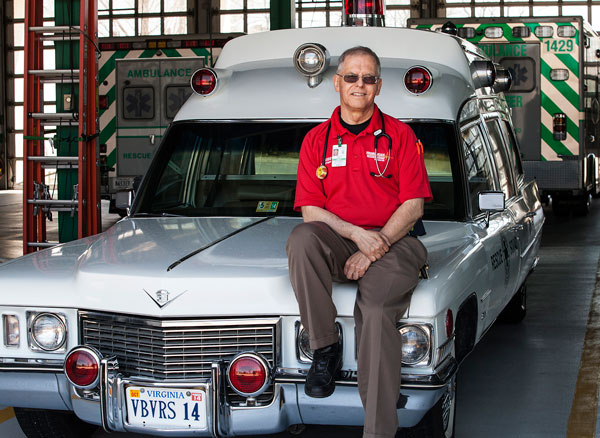 To make this vision a reality, the community foundation researched nonprofit programs around the country, created a model and recruited Tidewater Community College to run the academy. In the past nine years the community foundation has awarded more than $1 million in grants from unrestricted funds to support the academy.
Hill, a retired magistrate and volunteer emergency medical technician, was new to his rescue squad position in 2009 when he discovered the academy. He enrolled to develop marketing and communication skills and got the skills he wanted plus much more in the 19 one- and two-day academy classes he took to earn a Certificate in Nonprofit Management.
"The people teaching us weren't just local professionals. They brought in movers and shakers from all over who shared their secrets," Hill says. Click here to see the 174 academy classes offered since 2005.
Hill is among more than 1,145 people representing 455 different area nonprofits who have studied at the academy during the past nine years. Some are new to the nonprofit field. Others are veterans looking to expand and update their skills. The organizations they represent range from one-person nonprofits to those with hundreds of employees.
Academy students have learned everything from strategic planning and board development to nonprofit law and accounting. They also have connected with each other and found ways for their nonprofits to collaborate outside the classroom. Since 2005 nearly 100 academy students have earned a Certificate in Nonprofit Management, and many like Hill continue to take classes to sharpen their skills.
The academy is one of several ways the Hampton Roads Community Foundation helps Virginia nonprofits expand their ability to serve their constituents. Its monthly nonprofit e-newsletter highlights grant and educational opportunities while its monthly drop-in days give nonprofits an easy way to meet with a community foundation program officer and explore ideas.
What creative ways is your community foundation using to help its nonprofit partners do their best work?
Sally Kirby Hartman is Vice President for Communications at the Hampton Roads Community Foundation.
Community Foundations Centennial
Leadership Development