Recollections from the Next Generation: Council Interns Reflect
Wednesday, August 2, 2017 - 11:10 am EDT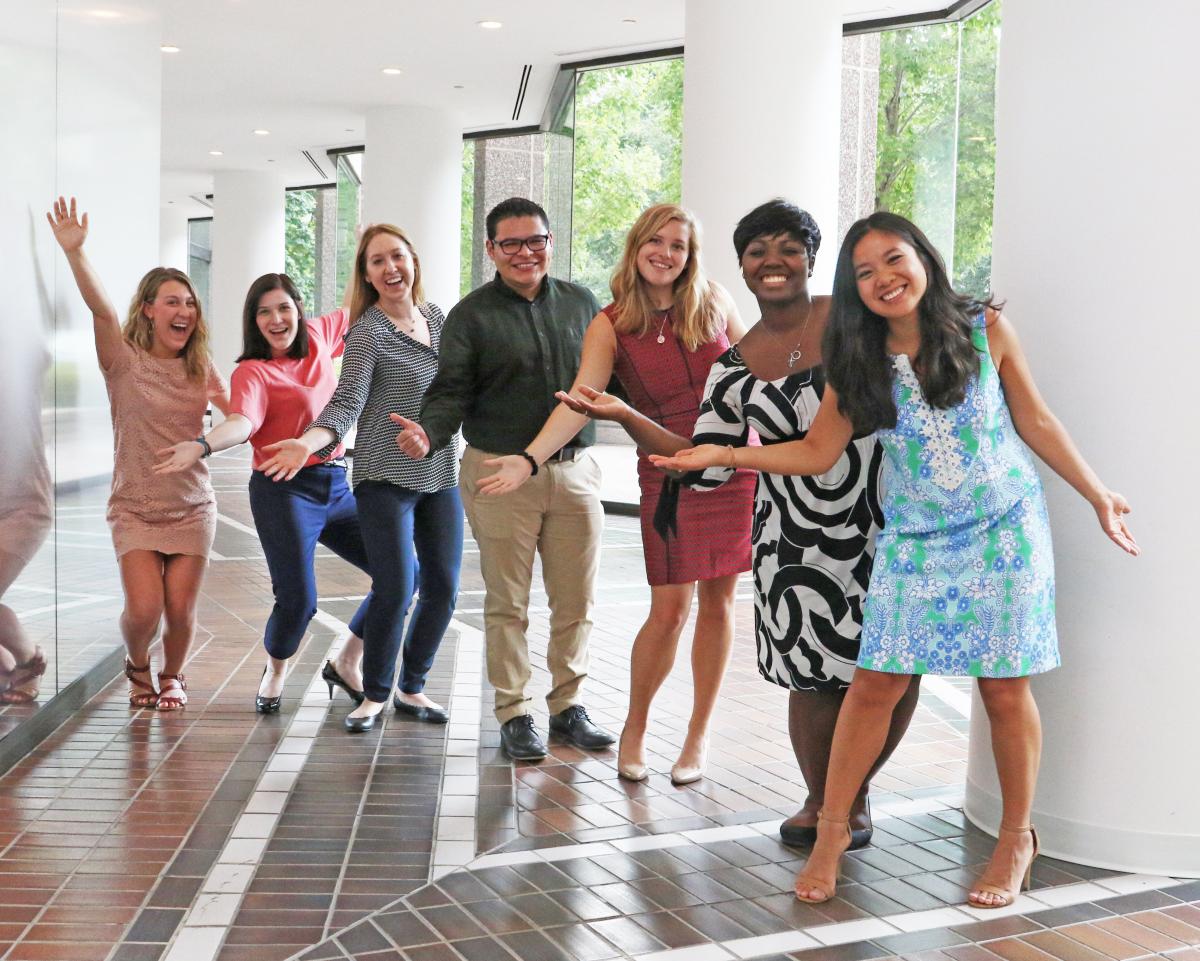 By Meghan Irvine
It is truly mind boggling to think that my time at the Council is wrapping up. It seemed like just yesterday, or six short weeks ago to be exact, that I was nervously entering a new internship in an unfamiliar city, with little knowledge about foundations and having no idea what to expect. Little did I know how much my expectations were going to be exceeded. It's been an incredible experience at the Council filled with countless opportunities, learning valuable skills, and creating wonderful memories. Everything I have learned about working in a nonprofit and the philanthropic sector is knowledge I greatly value. I know I can speak for the other interns when I say it has been a summer full of growth that we will surely never forget. Below are some of the recollections of the summer from my fellow interns.
Anne Hardee
Tell us about yourself.
"I'm Anne Hardee, I am from Saint Croix in the U.S Virgin Islands. I go to George Washington University. I am a rising senior and an Economics major with a minor in business administration. My fun fact is that I am dive certified. I am in membership relations and development. Sheden Willette is my boss."
What has been your favorite part about working at the Council?
"The people. I really like everyone here. Everybody is really nice, and we get bagels on Monday!"
What has been your favorite intern activity?
"The executive lunch. It was really cool getting to talk to everyone and hearing how all the different vice presidents have different stories as to how they got where they are now. They are all very interesting people with nonlinear paths, which is a great thing for me to see because it makes me realize no matter where I start out I can go anywhere. It doesn't matter if I don't know what I want right now, I will figure it out with time and as long as I work hard."
What is some advice you could give your future self?
"Not to be so nervous. The first week I tiptoed around the office and I was unnecessarily nervous because everyone is so nice. But if I told myself not to be nervous, I probably still would be. I am always way more nervous than I need to be because everything always turns out okay."
Matthew Lamas
Tell us about yourself.
"My name is Matthew Lamas. I am from Plant City, Florida. I am a rising senior at Penn State University. My majors are Political Science and CAS (Communication Arts and Sciences), with a minor in African Studies. My fun fact is that prior to my freshman year of college, I had never seen snow. I am within marketing and membership, so I am the marketing intern. Jared Powell is my supervisor. "
What are you working currently working on at the Council?
"I've been working on and helping with the GSB, which is the grantmaker's salary and benefits survey, and getting that implemented. We are also currently creating a video for the internal staff at the Council, to promote and show what we are all doing as a team. It's supposed to get everyone excited about the Council and what we are doing as an organization."
What's been a challenging moment for you and what has been a rewarding moment for you?
"The first day was probably the most challenging and just getting assimilated and used to the work schedule. The most rewarding moment was on my first day. My computer wasn't working so I had to call  IT support and get that fixed, and I had no idea what I was doing, but I did it!  And it was a small feat but a great moment."
What is some advice you could give your future self?
"Advice I would give to myself would be don't stress out. People are here and willing to help you. It's going to be okay. Also, to not worry too much about what is coming. I'm on the way to graduation, so I am pressured to know what I want to do, but I feel like everyone here has had so many different experiences and they have ended up fine."
Maya Blair
Tell us about yourself.
"My name is Maya Blair. I go to the George Washington University in Washington D.C. I am a rising senior and I am studying communications and psychology. I am from Boston, Massachusetts and a fun fact about me is that I ride a little moped around Washington D.C. Here at the Council I work with Kate Dubrowski in the HR department. So, I am the HR intern."
What is your favorite part about working at the Council?
"This may sound cliché but I really love all of the people who work here. I think there are great staff members and everyone has been super supportive, right from the day I got here. Everyone was so welcoming and always there to help if you have any questions. And they also are just a great resource for us, whether it's now or down the road. So, I am thankful that everyone is so friendly and so wonderful and willing to give the time to speak to me even though I'm just an intern. And along those lines the other interns are just so fun and I really enjoy being with everyone and I will be sad when this internship is over."
What is something you learned while working at the Council that surprised you?
"How philanthropic organizations really range in size. When I pictured nonprofits, I pictured small companies, but I've done research on some huge foundations and corporations, so seeing the range in size was surprising. Also, the diversity within the field. When people think about nonprofits or philanthropy they think about them being grouped together, but within the field there is such a wide range of diversity."
What has been your favorite intern activity this summer?
"Mine was definitely the gym activity. I thought that it was so fun and I let my competitive self come out a bit during dodgeball. But it was worth it because my team won. I liked it because we got out of the office, we got our workout on, and we became champions."
Nicolette Gerald
Tell us about yourself.
"My name is Nicolette Gerald. I go to school at George Mason University. I am a grad student studying public policy, but more focused on foreign policy. I don't have a home town; my dad is military so I moved 11 times over eight or nine years. So, the longest place I've lived in is Virginia, but I grew up everywhere. A fun fact about me is I know random facts about presidents and I love everything presidential. I work with Natalie Ross for Global Philanthropy.
What are you currently working on at the Council?
"My job is to help with the Council's country index, which is where our members can go through and see what global grants each country is receiving and which foundations are giving them. I am taking each country and downloading it offline from the thousands of grants that have been given there from 2010 to 2015 then creating graphs and charts that we don't have."
What is your favorite part about working at the Council?
"The best part is that even though we are interns they treat us like staff. As a graduate student it's nice to be included on everything. They treat you like you work here, which is really nice."
What is your dream job?
"I want to be the ambassador to Germany. I studied abroad there and worked with refugees in Berlin. I also did these fellowships with their government. I just love Germany so much, and I want to be an ambassador. But I don't have a lot of money and I don't know the president, so that will have to be further down the line."
Angelique Williams
Tell us about yourself.
"My name is Angelique Williams. I go to school at George Mason University. I study applied developmental psychology and I am currently getting my Ph.D. I was born in Clinton, Maryland, but I grew up in Accokeek, Maryland. I am working in professional development at the Council and Karon Harden is my boss."
What is your favorite part about working at the Council?
"I like how passionate everybody is about what they are doing and how open everyone is to talk. At this point in my life I'm just trying to learn as much information as I can and broaden my knowledge base. I like the fact that everyone is willing to sit down with you and talk to you about what they are doing but not only that, they are also interested in what you're doing and how they can help you do it better."
What is some advice you could give your future self?
"My biggest advice to myself is just don't worry and don't leave a chance untaken. Those are the two things I try to live by. If I could tell myself that however many weeks ago when I started, then even though I ended up doing it, I would have done it the first week instead of the third."
What is your dream job?
"My long-term goal is to become Secretary of Education. But honestly, my dream job is anywhere I am making a difference for kids. I am chasing the passion not so much the title, so if I can fill that dream whether it's building schools in Uganda or running data or on the Hill, as long as I can achieve that passion or dream then I will be alright."
---
I couldn't agree more with the sentiments of my fellow interns, who are incredibly talented, intelligent, and have very bright futures ahead of them. Our experience at the Council has taught us all unique and valuable lessons that we will take with us on to whatever is next and through the rest of our lives. I would like to add a few quick thoughts about my experience as well.
I am the communications intern at the Council, working for the wonderful Elizabeth Krempley and Janelle Brevard. In the fall, I will be back at Penn State University as a rising senior majoring in public relations and minoring in sociology. Home for me is West Chester, Pennsylvania. I am normally one to scramble when finding a fun fact, but something interesting about me is I love public speaking. I had the opportunity to speak in front of over 400 people at my church my junior year of high school and fell in love with it.
I couldn't agree more that the best part about the Council is the amazing people. When you have a friendly, encouraging, and supportive community like the Council, there is none that can compare! Kate Dubrowski greatly succeeded in making our summer a memorable one through all of the fun intern events she hosted. One of the most rewarding moments during my time here was being able to help Janelle and Elizabeth as they worked on their new strategic communications plan. It was exciting to be able to do research for them and see the beginnings of this project unfold. This is something I am really thankful for.
I'd like to thank the Council for impacting the lives of these six interns; they have made our experience the best it could be by being so encouraging, helpful, and resourceful during our time here. We are forever grateful for this opportunity.