Youth Optimism, Meet Opportunity: Bridging the Gap between Young People's Career Aspirations & Ability to Succeed
Wednesday, August 9, 2017 - 10:00 am EDT
At the Citi Foundation, we believe that success is a combination of the impact we can generate directly through our grant making and the influence we can have on others by amplifying what works (or what isn't working)—and most importantly why success matters. Earlier this year, on behalf of Citi and the Citi Foundation, I was honored to accept the Wilmer Shields Rich Award for Excellence in Communications from the Council on Foundations. Communications—and the work we did with Accelerating Pathways as part of our Pathways to Progress youth employment initiative—goes hand in hand with that influencing approach.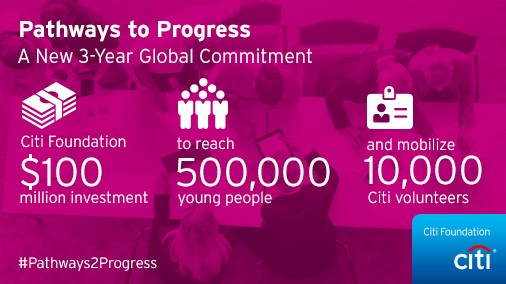 To create true impact and properly influence greater impact in the field, we need to listen to the people we serve. We did this as part of our Accelerating Pathways initiative and again more recently using the Global Youth Survey 2017: Economic Prospects & Expectations.Conducted by Ipsos and commissioned by the Citi Foundation, the survey built on existing research to further gauge the economic prospects and pursuits of more than 7,000 young people in 45 cities across 32 countries around the world. We learned about what careers they want to pursue, the availability of resources that help connect them to job opportunities, and the obstacles that stand in their way. We released the findings in conjunction with an announcement of our plan to expand Pathways to Progress globally and invest $100 million to reach 500,000 young people by 2020. 
The insights from the survey are especially important because young people today make up the largest youth population in history. Their successes and struggles are as diverse as their personalities and aspirations. However, in all corners of the globe, this generation faces a common challenge: persistent and high rates of youth unemployment.There is a silver lining, however, and it comes directly from the young people themselves. Through the survey we learned that young people remain optimistic, entrepreneurial, and have an idea for what they need to succeed. The bottom line? Young people believe in a brighter future, and it is up to us to help afford them that opportunity. Findings from the survey include: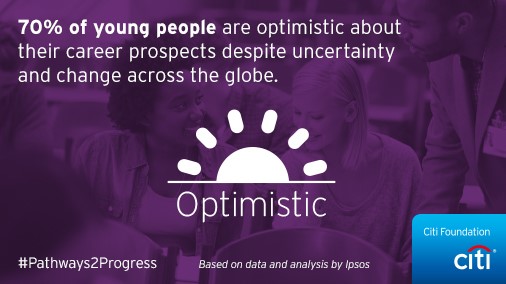 Despite uncertainty and change across the globe, 70 percent of young people are optimistic about their career prospects. Optimism is even higher in cities in developing markets and the fact remains that worldwide 71 million young people are looking for work.
Youth have the entrepreneurial spirit but are not starting businesses. Nearly 70 percent of young people surveyed aspire to be entrepreneurs, yet only 6 percent are actual entrepreneurs at present.
More often than not, there is a mismatch in the jobs youth have and what they want to do. Globally, 55 percent of employed young people are currently working in an industry in which they don't aspire to work. To find new opportunities, young people are craving on-the-job experience and professional and social connections.
78 percent of young people believe internships/apprenticeships are critical for success; however, 60 percent say there aren't enough of these opportunities.
Three out of four young people are willing to work long hours and take risks to achieve their career aspirations.
Research like the Global Youth Survey is helping us bridge the gap between where young people want to go and where they actually are. This in turn helps the broader philanthropic community by informing how municipal leaders, civil society, the private sector, and others can work together to bridge this aspiration gap.  
When communications strategies give voice to the communities and people we serve, as well as bring their stories of challenges and hope to the forefront, we create common ground and shared experiences, and we further the case for advancing progress through philanthropy. That is what makes our work come to life, humanizes the issues, and drives philanthropy forward.