Disaster Assistance and Emergency Hardship Funds: Charitable Assistance for Individuals and Communities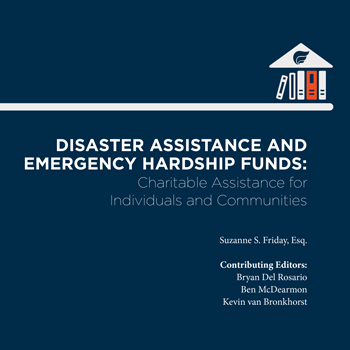 The Council on Foundations has long been involved in helping foundations and funders navigate grantmaking in times of disaster and hardship. We have published various materials over the years related to this subject. This Compendium chapter is designed to be combine key information into one comprehensive resource.  We address:
Disaster assistance in response to natural disasters, as well as emergency hardship assistance for more personal tragedies and man-made events, including mass shootings;
Assistance to specific groups, such as employees of a particular employer;
The specific IRS rules that must be followed, but also discuss where there are gaps and unanswered questions; and
Unique approaches designed to help victims of tragedy.
The target audience for this chapter includes private foundations, community foundations, company foundations, and direct corporate-giving programs. Although this book occasionally references the individual donor and the laws that affect that donor, we do not make an effort to provide a comprehensive analysis of the rules for individual giving.
The chapter is organized as follows:
THE LEGAL FRAMEWORK FOR U.S. CHARITIES
PART ONE reviews the legal framework applicable to U.S. charities, including a discussion of charitable purpose and how disaster assistance and emergency hardship funding can fit within that purpose.
PUBLIC CHARITIES PROVIDING DISASTER RELIEF AND EMERGENCY HARDSHIP ASSISTANCE
PART TWO examines public charities, including community foundations, and discusses how these organizations can provide assistance to communities and individuals. 
SPECIAL CONSIDERATIONS FOR PRIVATE FOUNDATIONS
PART THREE reviews specific rules for private foundations making grants to other charities and individuals. 
CORPORATE PHILANTHROPY AND DISASTER RELIEF/EMERGENCY HARDSHIP ASSISTANCE
PART FOUR discusses issues important to corporate philanthropy, including assistance to employees of individual employers.
RECENT DEVELOPMENTS ASSOCIATED WITH MAN-MADE DISASTERS
PART FIVE examines recent man-made disasters, including several mass shootings, and discusses new approaches to help the individuals and communities affected.
ADDITIONAL RESOURCES AND EXAMPLES
PART SIX concludes with a list of resources that will be helpful to funders, including some sample documents.
---
Accessing this Chapter
As a benefit of Council membership, members can download this chapter for free. Non-members can purchase this chapter of the Legal Compendium in our store for $149.