2020 Grantmaker Salary and Benefits Report: Key Findings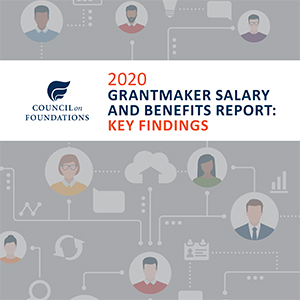 For 40 years the Council has provided the most comprehensive analysis of salary and benefits for full-time staff at U.S. foundations through the Grantmaker Salary and Benefits (GSB) Report. This year, in addition to providing an analysis of salary and benefits data from 8,794 full-time paid professional and administrative staff members, the GSB Key Findings looks back on 5 years of demographic data and reveals that we have miles (and miles) to go to advance the field's commitment to diversity.
Key data surfaced in the report includes:
Minimal progress on racial diversity has been made over the past five years – people of color account for only 10.3% of CEOs, the identical level reported in the 2016 GSB.  
Women continue to account for more than three-quarters of the philanthropic workforce, and hold just over half of CEO roles.
Employees age 50 and over are 40 percent of staff and 77 percent of CEOs/CGOs, while employees under 30 are 10 percent of staff.
Of 703 foundations responding, less than 1% reported employing full-time staff members with disabilities.