Philanthropy Can Further Social Cohesion: One Way to Get Started
Friday, October 13, 2023 - 2:30 pm
This blog is part of the Council's Dialogue Across Difference series. In this space, we will share your viewpoints: In a time of polarization and mistrust, how can philanthropy bridge across difference?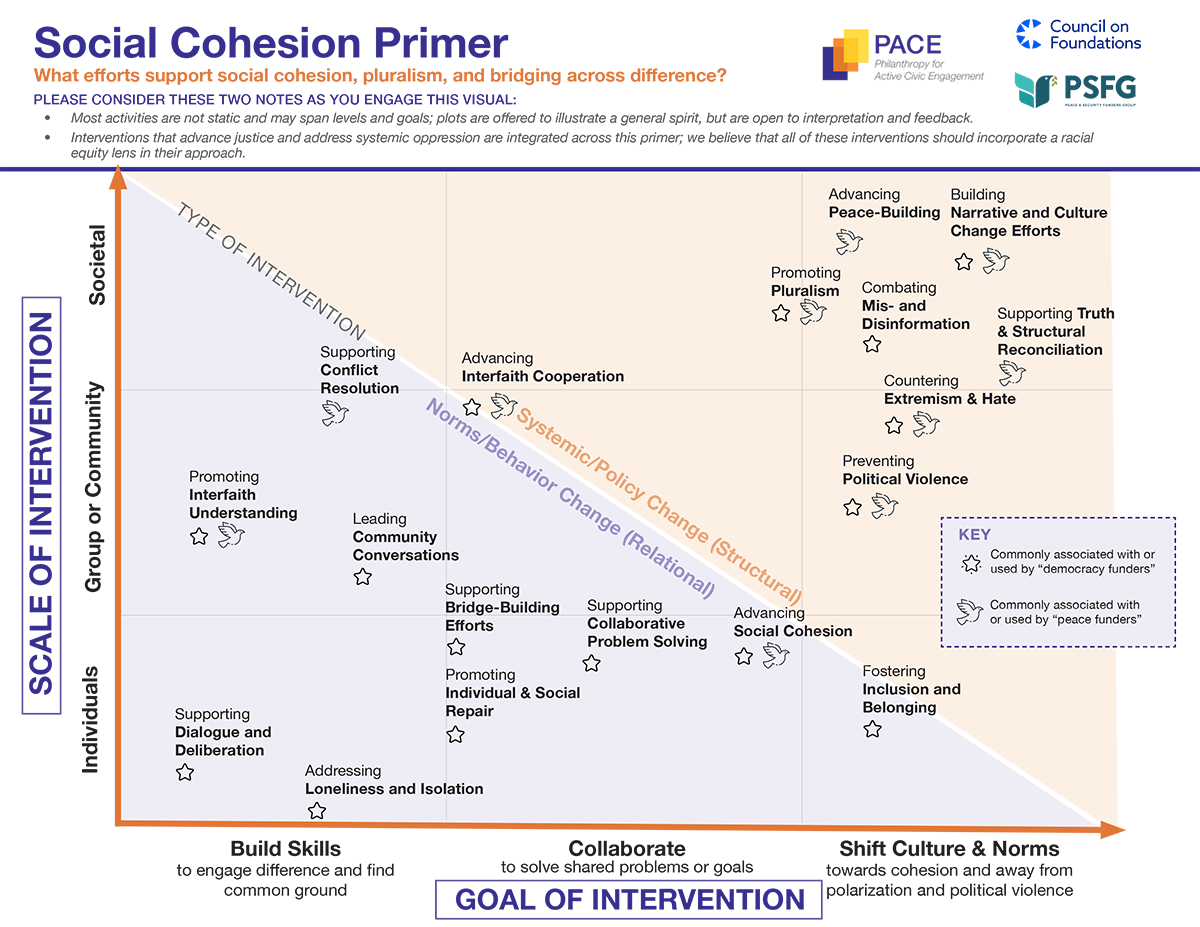 The Constitution empowers us to create "a more perfect union." Today, toxic polarization and political violence threaten the very concept of a union, and current challenges force us to confront the reality that democracy is not a given. A recent joint statement signed by 13 presidential centers–from Herbert Hoover to Barack Obama–reminds us that "As a diverse nation of people with different backgrounds and beliefs, democracy holds us together." They go on to assert that democracy's promises of freedom and human rights "underscor[e] the importance of compassion, tolerance, pluralism, and respect for others."
As a philanthropic network helping foundations maximize their impact on democracy, PACE is getting an increasing number of inquiries from funders looking to make sense of the ever-expanding ecosystem of initiatives aimed at supporting democratic health, bridging differences, and promoting pluralism– and where they might fit in. Our colleagues at the Peace and Security Funders Group (PSFG) have been fielding similar questions from their members: how do the peace and conflict resolution efforts they've supported internationally apply in a domestic context? There are similar words, terms, and ideas floating around both spaces, but do they relate to each other? Where are they similar? How are they meaningfully distinct? 
PACE has partnered with PSFG and the Council of Foundations to create a new resource, the Social Cohesion Primer, which provides a map for funders to visualize an "ecosystem of cohesion-advancing efforts" and begin to imagine their place in it. The primer plots efforts supporting the concept of social cohesion (broadly defined) by goal and by scale. Goals include building skills to engage difference, collaborating to solve shared problems, and shifting culture toward cohesion. Scale considers the impact they have on an individual, group, or societal level. This orientation intends to convey an acknowledgement that not every intervention is the same or exists for the same purpose; some are systemic and some are relational, but they all play an important and necessary role. The "interventions" in the ecosystem are plotted as coordinates on these axes and include efforts like combating dis-information, countering extremism and hate, and advancing interfaith cooperation.
For PACE, this primer is one part of a larger vision for philanthropy: Social Cohesion Philanthropy. Over the last few years, PACE has heard that the way philanthropy operates risks making polarization worse, including by perpetuating zero-sum thinking or instrumentalizing relationships. Further, sometimes our ideas of what constitutes a "win" in the short term may have a detrimental impact on the long-term social fabric of our communities, country, and democracy. Social Cohesion Philanthropy aims to shape the culture of philanthropy toward intentionally building social cohesion and combating toxic polarization in America.
More than 80% of American voters are worried about democracy, and six-in-ten U.S. adults say they are "not satisfied with the way democracy is working." Philanthropists have an opportunity to make tangible investments that prove a better future is possible, and ensure Americans feel a sense of belonging and that we don't backslide into authoritarianism. At PACE, we believe opportunities to advance the vision of an inclusive and socially cohesive democracy are plentiful, and philanthropy can make critical investments to turn this vision into reality.
---
Kristen Cambell is CEO of PACE (Philanthropy for Active Civic Engagement), a philanthropic laboratory helping funders maximize their impact on democracy and civic life in the U.S.
Building Common Ground
Embracing Better Ways of Operating